Back to ELC Home
Sixth Annual Colloquium on Environmental Scholarship
OCTOBER 3, 2015
Vermont Law School will host the Sixth Annual Colloquium on Environmental Scholarship on October 3, 2015. This event offers environmental law scholars the opportunity to present their works-in-progress, to get feedback from their colleagues, and to meet and interact with those who are also teaching and researching in areas related to environmental and natural resources law, or any related specialty areas. The Colloquium is directed by Vermont Law School professor Hillary Hoffmann.
2015 Schedule
The general overview of the Colloquium schedule includes: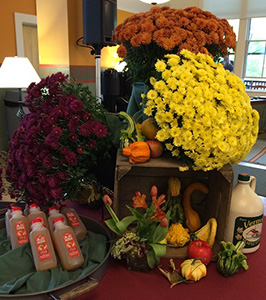 FRIDAY, OCTOBER 2ND
Friday morning/afternoon: Participants arrive.
Friday evening: Welcome Reception at Marriott Courtyard Hanover-Lebanon Hotel. Drinks and hors d'oeuvres provided. Welcome remarks by Melissa K. Scanlan, Vermont Law School Associate Dean for Environmental Programs and Associate Professor.
SATURDAY, OCTOBER 3RD
Saturday morning: Attendees depart from Lebanon via coach bus to Vermont Law School.
Saturday morning/afternoon: Colloquium begins. Paper presentations and discussion. Lunch will be provided.
Saturday evening: Reception and Dinner at Vermont Law School. Keynote address.
2014 Participants enjoy a gorgeous view from the hike up Mt. Tom, Marsh-Billings-Rockefeller National Historic Park
Colloquium adjourns. Participants are bussed back to Lebanon.
We welcome participants to consider spending the weekend in Vermont.
SUNDAY, OCTOBER 4TH
Sunday morning: Optional 1-2 hour hike, weather dependent. We expect this informal adventure to wrap up by lunch time in order to give participants time to travel home. Further details forthcoming.
Sunday afternoon: Departure. Safe travels!
Lodging and Transportation
Participants are responsible for their own lodging and transportation costs.
Transportation
For those who are unfamiliar with South Royalton's location, we are approximately 2.5 hours from Boston by car. The closest airports serviced by major airlines are Burlington, VT, Manchester, NH, and Boston Logan. There is a small local airport in Lebanon, NH with flights to and from the NYC area and Boston Logan. In addition, there is train service to White River Junction on Amtrak, as well as a luxury bus service from Boston provided by the Dartmouth Coach. Participants may travel from Burlington, VT to Lebanon, NH using Vermont Translines or Greyhound bus lines.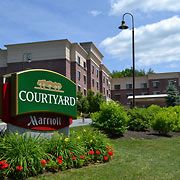 Lodgings
Participants are encouraged to stay at the Courtyard by Marriott to take advantage of the group discount to Colloquium participants. Friday evening's reception will also take place at this venue, and complementary shuttle service will be available to/from the Courtyard and Vermont Law School. The Courtyard must be booked before September 2, 2015 in order to receive the group rate. Please use this direct link to reserve rooms. The group name is "Vermont Law School Environmental Scholarship Colloquium."
For more information on the Colloquium, please contact Courtney Collins at ccollins@vermontlaw.edu or at (802) 831-1371.