Back to ELC Home
Vermont Law and Graduate School will host the Fourteenth Annual Colloquium on Environmental Scholarship on September 23, 2023. Colloquium participants are environmental law faculty in the U.S. and abroad. This event offers environmental law scholars the opportunity to present their works-in-progress, to get feedback from their colleagues, and to meet and interact with those who are also teaching and researching in areas related to environmental and natural resources law, or any related specialty areas.
Participants enjoy a casual hike, 2022.
Call for Abstracts
Abstract submission is now closed. We will do our best to notify authors about acceptances by mid June.
If you are interested in presenting a paper at the Colloquium, please submit a working title and abstract of 200-300 words no later than May 31, 2023. For an abstract to be eligible for submission, the author must anticipate that the paper will be a true working draft (neither published nor so close to publication that significant changes are not feasible) by the date of the Colloquium. We will do our best to notify authors about acceptances by mid June.
This year, we are awarding a limited number of travel stipends up to $500 reimbursed. Please indicate on the online form if you would like to be considered for this travel stipend. Preference will be given to junior faculty and people of color.
Selected participants will be required to submit a paper draft no later than September 5, 2023, and all participants will be asked to provide commentary on another participant's paper draft at the Colloquium. Final papers will also be eligible for publication consideration in the Vermont Journal of Environmental Law.
2023 Schedule
The following is the tentative schedule.
FRIDAY SEPTEMBER 22ND
5:00 - 7:00PM: Welcome Reception at The Norwich Inn, 325 Main St, Norwich, VT 05055. Drinks and hors d'oeuvres provided. Welcome remarks.
SATURDAY SEPTEMBER 23RD
Panels will run from 9:15AM - 4:45PM at Vermont Law and Graduate School. Participants will have 5-7 minutes to present their draft, followed by 20 minutes of discussion. Presenters are expected to read the paper drafts for the other papers in their session and provide comments in writing or during the Q&A.
9:00AM - 9:15AM: Welcome Remarks
9:15 - 10:45AM: First Panel Session
10:45 - 11:00AM: Break
11:00AM - 12:30PM: Second Panel Session
12:30 - 1:30PM: Lunch Break
1:30 - 3:00PM: Third Panel Session
3:00 - 3:15PM: Break
3:15 - 4:45PM: Fourth Panel Session
4:50 - 6:00PM: Reception
6:00 - 7:30PM: Dinner

SUNDAY SEPTEMBER 24TH
Field trip participants have the option of joining an easy hike. The hike affords excellent opportunities to enjoy the Vermont fall foliage. The field trip will conclude by mid-morning on Sunday to allow participants time to depart. Additional details will be sent by email to the field trip participants. Field trip is weather dependent.
For more information on the Colloquium
Please contact Courtney Collins at ccollins@vermontlaw.edu or at (802) 831-1371.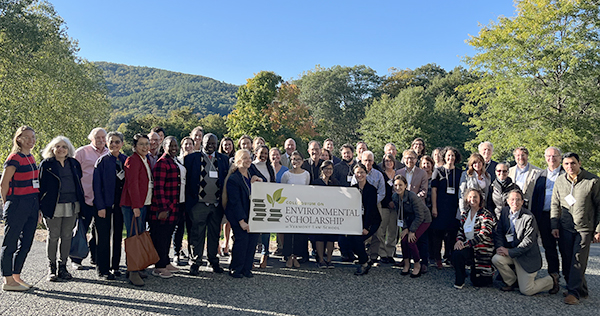 2022 Participants pause for a group photo on the Debevoise back lawn at VLGS.
Lodging and Transportation
Participants are responsible for their own lodging and transportation costs.
Transportation
We are approximately 2.5 hours from Boston by car. The closest airports serviced by major airlines are Burlington, VT, Manchester, NH, and Boston Logan. There is a small local airport in Lebanon, NH with flights to and from the NYC area and Boston Logan. In addition, there is train service to White River Junction on Amtrak, as well as a luxury bus service from Boston provided by the Dartmouth Coach. Participants may travel from Burlington, VT to Hanover, NH using Greyhound bus lines.

The Norwich Inn
Lodgings
Participants are encouraged to stay at The Norwich Inn to take advantage of the group discount to Colloquium participants. Friday evening's reception will also take place at this venue, and complementary shuttle service will be available to/from The Norwich Inn and Vermont Law and Graduate School. The Inn must be booked before July 31, 2023 in order to receive the group rate. Please call the Inn at 802-649-1143 or email innkeeper@norwichin.com to reserve a room at the Vermont Law and Graduate School block rate.