Back to ELC Home
Fifth Annual Colloquium on Environmental Scholarship
OCTOBER 4, 2014
Vermont Law School will host the Fifth Annual Colloquium on Environmental Scholarship on October 4, 2014. This event offers environmental law scholars the opportunity to present their works-in-progress, to get feedback from their colleagues, and to meet and interact with those who are also teaching and researching in areas related to environmental and natural resources law, or any related specialty areas.
Carol Browner, former EPA Administrator
Keynote Speaker
Carol Browner will deliver the keynote address at our invitation-only Fifth Annual Colloquium on Environmental Scholarship on October 4, 2014. Vermont Law School has selected Browner, former Administrator of the Environmental Protection Agency, as the Fall 2014 Distinguished Environmental Law Scholar. As EPA administrator, Browner adopted the most stringent air pollution standards in the nation's history; set a fine particle clean air standard; and spearheaded the reauthorization of the Safe Drinking Water Act as well as the Food Quality Protection Act. She is now Senior Counselor at Albright Stonebridge Group and a Distinguished Senior Fellow at the Center for American Progress. She served as the Director of the White House Office of Energy and Climate Change Policy in the Obama administration from 2009 to 2011.
Preliminary Schedule
The Colloquium panels will take place on Saturday, October 4. Vermont Law School's Environmental Law Center and its faculty will host a cocktail reception the night before in the Hanover area and a dinner on Saturday evening, at Vermont Law School. The full Colloquium schedule will be available by the beginning of October.
Friday
Friday morning/afternoon: Participants arrive.
Friday evening: Welcome Cocktail Reception in the Hanover/Lebanon, NH area.
Saturday
Saturday morning: Attendees depart from Lebanon via coach bus to Vermont Law School.
Saturday morning/afternoon: Colloquium begins. Paper presentations and discussion. Lunch will be provided.
Saturday evening: Dinner at Vermont Law School. Colloquium adjourns. Participants are bussed back to Lebanon.
We welcome participants to consider spending the weekend in Vermont.
Sunday
Sunday morning: Optional hike at Marsh-Billings-Rockefeller National Historic Park. Participants are bussed to the park for a 2-3 hour hike, followed by lunch in scenic Woodstock, VT.
Sunday afternoon: Departure. Safe travels!
Lodging and Transportation
Participants are responsible for their own lodging and transportation costs.
Transportation
For those who are unfamiliar with South Royalton's location, we are approximately 2 hours from Boston by car. The closest airports serviced by major airlines are Burlington, VT, Manchester, NH, and Boston Logan. There is a small local airport in Lebanon, NH with flights to and from the NYC area and Boston Logan. In addition, there is train service to White River Junction on Amtrak, as well as a luxury bus service from Boston provided by the Dartmouth Coach. Participants may travel from Burlington, VT to Lebanon, NH using Vermont Translines or Greyhound bus lines.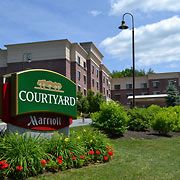 Lodgings
Participants are encouraged to stay at one of two selected hotels that offer a group discount to Colloquium participants.
The Courtyard by Marriott, Hanover/Lebanon
Reservations at the Courtyard must be booked before September 3, 2014 in order to receive the group rate. Please use this direct link to reserve rooms. The group name is "Environmental Scholarship Colloquium."
Days Inn, Lebanon
Reservation at Days Inn must be booked before September 3, 2014 in order to receive the group rate. Please call 603-448-5070 or email at daysinnlebanon@gmail.com to reserve a room. Note: the Days Inn website will not permit reservations using the group rate, so please call or email to obtain the group rate. The group name is "Vermont Law School."


For more information on the Colloquium, please contact Courtney Collins at ccollins@vermontlaw.edu or at (802) 831-1371.